Airships & Railroads
And a Ship and a Submarine!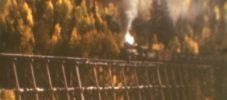 Tom Wham's Rail Nut Page



Below are some links to some really great railroad museums
and/or tourist railroads
(they could use your support):



Illinois Railway Museum

Colorado Railroad Museum

Ridgway Railroad Museum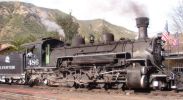 My second love after the Rio Grande Southern passed away: Durango & Silverton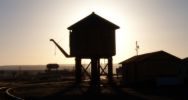 Still hangin in there. This is just as important a railroad as the Durango & Silverton Cumbres & Toltec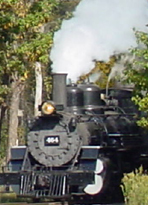 Huckleberry Railroad, where Rio Grande Western #464 (which served on the RGS) still lives!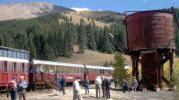 When we stay in Frisco, we ride: The Leadville Colorado & Southern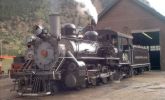 The Georgetown Loop
The picture is of former equipment. I used to ride this on a regular basis, but I haven't been back since,
the Colorado Historical Society had a beef with the former operators. You can read about the dispute by
clicking on this link is to the former operators.: The Royal Gorge Route





Four (count 'em) operating 2 foot guage steam engines, a loop at each end of the track.
A great reason to travel to Colorado's real Capitol and ride the rails...
built over the old Midland Terminal grade." The Cripple Creek & Victor Railroad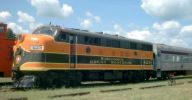 No steam but very friendly, you'll really enjoy the Wisconsin Great Northern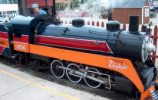 The nearest steam to Lake Geneva, Wisconsin.
Thanks to "Tracks Ahead" on PBS, I found this treasure with a bunch of live
steam engines hidden in an amusement park in Marshall Wisconsin, the
Whiskey River Railroad


Not actually a railroad, and the Becuna used diesel,
but the Olympia was coal fired and steam powered.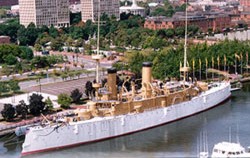 Here, for just a little longer (November 22, 2010) you can still see
the cruiser Olympia, Admiral Dewey's flagship at Manila Bay, the
The Independence Seaport Museum


These guys don't need your support, but it's really cool anyway...






I'm a nut for airships. The makers of the Graf Zeppelin, Luftshifftechnik Zeppelin GmbH, part of the
Luftshiffbau Zeppelin firm, manufacturers of construction equipment, fork lifts, and the like,
have at last built another airship, albeit a bit more modest than the Hindenberg. Zeppelin

Try this excellent link: Modern Airships



---
Go back to Tom Wham's home page

This page updated October 11, 2010