Afternoon, August 23
After our pleasant Goose journey, Chris & I found a good parking spot near the railroad tracks... only to be chased away to the south side of the road by the local constabulary. The organizers of Railfest wanted less to obstruct our views. A great idea that wasn't quite enforced. Anyway we parked among a bunch of burrs on the first try, and later moved to a safer spot near the Animas, where we had a good view of the afternoon's entertainment.



Click on the pictures for a larger version.
Once there, click on BACK to return to this page.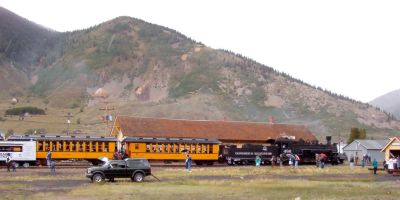 We opened up the cooler and munched on some sandwiches and soon a flock of speeders (put-put cars) came up the track from Silverton. These were shunted off to a siding. The rain, which had been threatening, began just as the first passenger train from Durango arrived. You can also see the evil vehicle belonging to the official photographer of the event who parked right in the middle of everything and messed up our photos.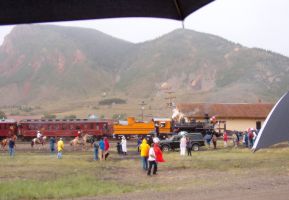 The rain continued on and off, but it did not stop the festivities. For some unknown reason, I messed up a lot of pictures at this point (maybe water in the camera). It wasn't long before the Presidential Train ($175 per ticket.. but all parlour cars) arrived, itching for a robbery.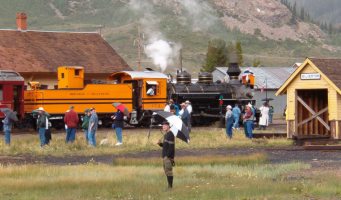 As the robbery progressed, Chris grabbed the big umbrella and wandered over to the engine.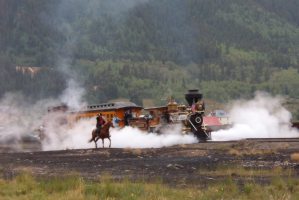 A bit later the best part of the show arrived, blowing her whistle and letting off what was left of her steam. The "Eureka" was born in Philadelphia in 1875 and now lives in Boulder City Nevada. She regulary comes to Railfest.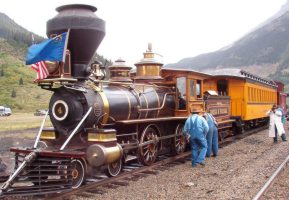 This beautifully restored visitor from Nevada even predates the Denver & Rio Grande. She lives at the Nevada State Railroad Museum, 601 Yucca Street, Boulder City, Nevada. This is the best website I could find for her: Roberta Larocca's Blog. Note the old fashioned (and dangerous) link & pin coupler on her nose.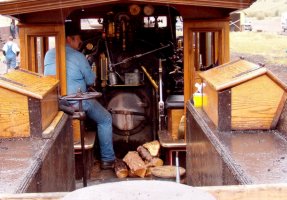 The tiny pile of wood you see down there in front of the firebox is all the wood Eureka had left after the run uphill from Durango!.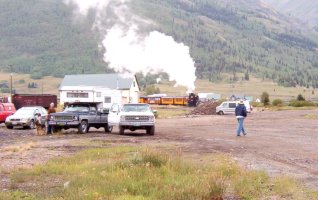 The first train into Silverton has turned on the wye and is backing into town to pick up her passengers for the return to Durango.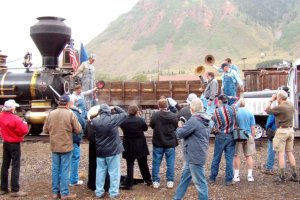 A little later the Eureka and Goose #5 hold a "Golden Spike" ceremony for us tourists.

More to come soon.