Click on the pictures for a larger version.
Once there, click on BACK to return to this page.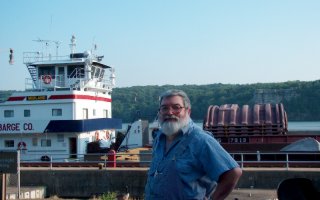 I can't head to Southern Illinois without stopping at the Starved Rock Lock & Dam.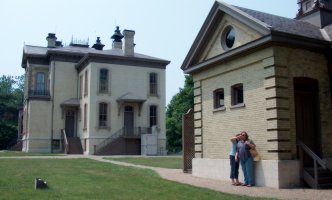 The next Day Kathryn, her daughter, & I visit the mansion of David Davis, nominated to
the Supreme Court by Abe Lincoln. They're hiding behind what I think was the carriage house
(now public rest rooms). I was impressed by the long rubber tubes (that came down from the
overhead gas lights) in the dining room for lighting the men's cigars.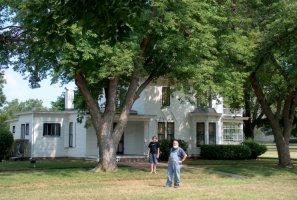 I took no photos in Missouri. We stopped for food at last on the Kansas Turnpike. Then we got
off at Abeline to see if a model tank built by my friend Jamie Schwartz was still on display at
the Eisenhower museum. It wasn't. Later, Brandon & I stand in front of the house Ike grew up in.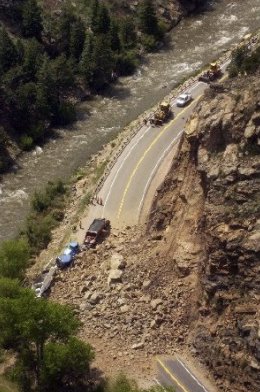 I think we spent the night at Oakley, Kansas. We were up early and stopped for breakfast in
Goodland, KS. Then we hurried on to arrive in Denver by early afternoon. You cant't imagine how
disappointed I was when we arrived at the entrance to Clear Creek Canyon and found it closed!
Chris later sent me this news photo of what had blocked the road.

The mountains were calling us, so we did the next best thing and took a trip to Golden Gate Canyon State Park.


From there we headed through Black Hawk and over the Virginia Canyon Road down to Idaho Springs for a picnic. That night we spent night at Chris's
house in Denver (and I had the infamous red sheet/pink underwear incident). Next day we set out for Tinytown.

After Tinytown, we headed up Squaw Pass Road with Mt. Evans as our goal.




Looking Back down toward Evergreen down Vance Creek from the Squaw Pass Road

We paid the fare to enter and started up to the top of Mt. Evans, but by the time we reached Summit Lake, I was overwhelmed by altitude sickness
and we headed back to my favorite picnic table next to Clear Creek back in Idaho Springs.
We were off to Colorado Springs for the next night. Then a visit to Cripple Creek...




Coming down Coloroado 67 from Divide, we stopped above Cripple Creek for the view
and I took this panorama (without a tripod again).



More to come...