Friday
GFred left Chester at 1:30 P.M., but stopped in the middle of Kansas for a motel. I Left Lake Geneva at 4:30 P.M. and drove all the way to the visitor center at Julesburg where I grabbed three hours sleep.

Saturday
By noon, I had arrived as cousin Nancy's house (I was 2 hours early) nobody was home so I introduced myself to the doggies and the horses, and then set up camp in my chair in the shade. About a half hour later, Nancy arrived with a sick pooch returning from surgery at the vets. She introduced me to all the outdoor creatures and then to the 4 Ferrets who lived (very well hidden) inside. After a while Uncle Bob and Aunt Dorothy showed up, and then Nancy's hubby, Ron. Around 3 P.M. snacks were broken out, and then at 4, up drove GFred and Brandon and the party began.

Much talking and admiring of old automobiles and ferrets ensued, including much talk about the encroachment of civilization upon the hillsides of Colorado (behind Nancy's nice bluff is a big subdivision of Castle Rock). Eventually GFred, Brandon, and I took off and headed for Frisco. We made it in under 2 hours and collapsed that night early.

Sunday
On the agenda for the day: a traverse of Lily Pad Lake. It was mostly downhill and we figured even I would survive. Unfortunatlely, we discovered thickets of mosquitos who attacked anything that did not move. So, we kept moving. It was still very beautiful. I took lots of lovely pictures. That night, we bought a bunch of tacos & burritos at Taco Bell and brought them home. Chris had driven up from Denver in the Thumper and was there awaiting us. He not only ate tacos, but finished off one of Nancy's fine crispy burgers (that Brandon had saved but not eaten).

Monday In the morning I admired bicycles as I walked into town... especially a recumbant. I also learned that one of the shops would take you up to the top of Vail Pass for $20 per person. We talked about what to do, and bicycling almost won, but a hike to Argentine Pass won out. So we packed up and drove up as far as we could, missing our turn and paying Montezuma a visit. Eventually we came to a place where somebody had locked a gate the road with a padlock... way below the trailhead shown on the map. So an extra mile in each direction was added to our hike. By the time we reached what was supposed to be the trailhead, Brandon had devloped a nosebleed, was exhausted and ready to quit. George and Chris went on, and I persuaded Brandon to stay. He recovered his will to live after some food. The two of us followed far behind, not knowing how far the advanced party had gone.

Again, I took lots of scenic photos. Eventually Brandon and I got above timberline and into a boulderfield. About that time a thunderstorm came rolling up the valley. Brandon and I retreated from the cold, wind, rain, and lightning, down the trail to a nice sheltered depression with some shelter. We weathered the storm, but decided to call it quits and began wandering down the trail. Back at Peru Creek we explored the remains of an old mine. We were afraid to go into the shaft... water dribbled down from the roof and several feet in was a huge block of rust colored ice. About an hour later, George and Chris returned. Only Gfred had braved the lightning and made the Pass.

Tuesday The next day we fixed up a pair of bikes in Uncle Bob's garage and rode around town. That was enough fun that I decided to rent bikes. I got the recumbant I had been admiring and Gfred got a tandem (Brandon was not yet a cyclist). We loaded everything in my van (it was a bit crowded with Gfred on the floor wedged between spokes and wheels. Of course I missed the turn at Vail Pass and we had to drive all the way down the other side to Vail (to the tune of many complaints from the back) and come back.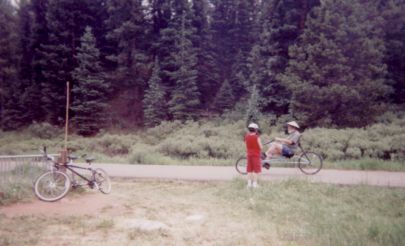 Two miles down from Vail Pass... a biker rest stop.



The trip back down to Frisco was absolutely excellent. That night I went out and bought a cheap version of the recumbant and a rack for my car so we could do it again.
Another Camera Disaster
There ought to be a photo record of the first half of this trip, but, again I managed to lose over 40 pictures... this time by putting my digital camera in my bicycle basket and letting it bounce for 14 miles on a bike path.

Wednesday
Heather had joined us the night before and we managed to convince her to join us on the bikes. Brandon's entusiasm level was so great that he declared his intention to ride his own bike. He and Chris rode around town for a couple hours and soon we were ready to go.