Gary Con II
for me... March 18, 19, 20, 21, and 22, 2010


If you look at other records of this convention, you'll see a different view involving much role playing... a long time ago, my office at TSR sported a special sign: "DANGEROUS NON D&D AREA" A lot of non-roleplaying games went on at Gary Con II.

For Me, Gary Con II began with Gary Con I (held at the American Legion Hall in Lake Geneva). That site was way too small for the number of people who showed up. It was a great event, and lots of friends and family of Gary Gygax came, hobnobbed, and played games.

During the off season, Luke Gygax, reserved the meeting rooms at the The Lodge at Geneva Ridge (between Lake Como and Geneva Lake... it used to be called Interlaken) for Gary Con II. It was a great site with plenty of room for gaming and good views of Lake Como out the windows. For those with low budgets, however, it is 5 miles to the nearest MacDonalds.

I was approached too late to draw a souvenir map for the con, but look for one next year to guide you on your tour of historic TSR sites around Lake Geneva, Wisconsin.

So my Gary Con II began Thursday evening when the Clan Gygax sprung for for a pizza gathering at the Next Door Pub. The Pub made the best pizza in town back in 1977 when I come to work for TSR, and it still is the best today.

Anyway, all of Gary's sons, daughters, (most of whom used to sell us gamers hot dogs at early Gen Cons) were there. And then there were his grandchildren... so numberous that I've lost track. Elise was introducing some of the youngest to their "soft and cuddly" uncle Ernie!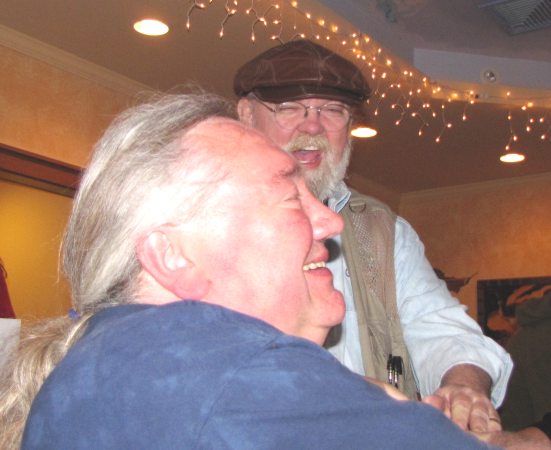 That's Tim Kask in the back and Ernie in the front

I was chowing down on an all meat, artery clogging, cheese covered slice of goodness when Bill Cousimo (Ernie's brother in law) came up with a sample of the Gary Con Coin. Bill, by the way, is running for alderman in district 1, so if you live in Lake Geneva, vote for Bill!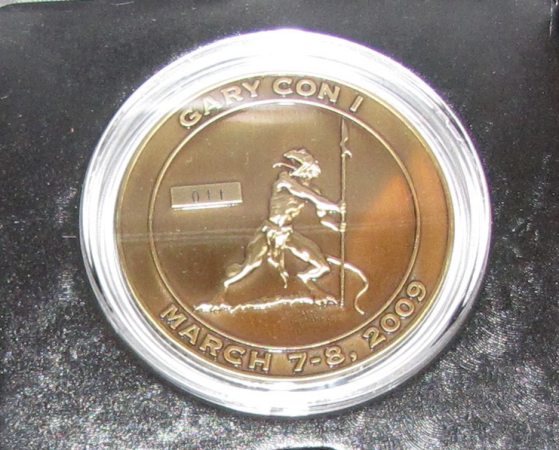 The numbered side of the Gary Con Coin.
Photo taken while eating pizza at the Next Door Pub... Ernie was holding it..."

I was sitting at the wrong table (there were seating charts) along with Jim Ward and Frank Mentzer (who were also at the wrong table) when along came Steve Chenault of Troll Lord Games, who sat down among us.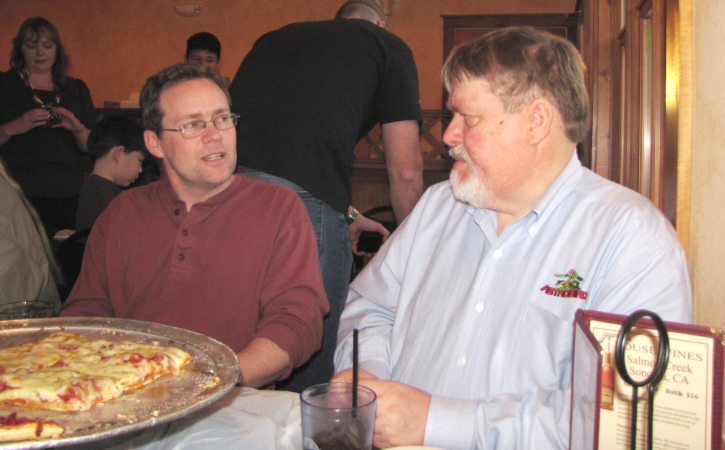 Steve Chenault and James M. Ward

Gary Con II turned out, for me anyway, to be the best TSR reunion ever held. I ran games in the back meeting room for three days and during that time, there was a neverending procession of friends and comrades from the old days. I will endeavor to mention their names as I think of them (could be difficult considering the brain I'm required to use.)