While at the Summit County Library in Colorado earlier this year, I wandered into the Union Pacific website and discovered a midwestern tour of a Challenger. I made a mental note and, unfortunately, forgot about it, until June 14th. After the train had visited Milwaukee and Chicago and headed back west. However, the challenger was going to spend the night of June 15th in Des Moines, Iowa. I was fully prepared to drive that far when I heard an ad on a Chicago radio station for a steam excursion to Galesburg on Satuday. I hit the Internet and found Bill Selleck's website which gave me all the info I needed to find everything.

Milwaukee Road 4-8-4 No. 261, a 1944 Alco, was going from Chicago to Galesburg, spending a few hours there and then returning. A big shiny 4-8-4 is almost as sweet as a challenger and Galesburg was a damn sight closer to Lake Geneva than Des Moines.

Next day I was off (about a half hour late, as it turned out.) Part of my plan was a stop at the Railroad Museum in Mendota, which I had discovered a couple years ago trying to follow Ogden Avenue west to the Trail Ridge Road (but that's another story). At Mendota, I encountered a railfan who told me 261 had spent time here taking on water but had left a few minutes earler. Not realizing that the thing was traveling at up to 70 miles an hour, I barreled off down US 34 hoping to catch her. Well, I never did. But along the way I saw some nice places for photo ops and hoped I could catch her on the way back to Chi-town.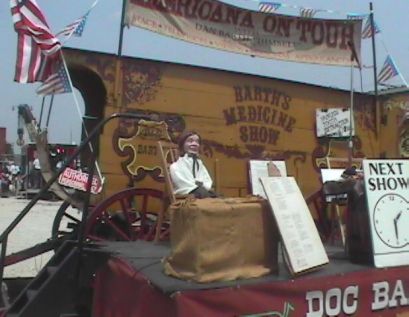 I ignored Bill's advice to park at Carl Sandburg College, lucked out and found a downtown parking spot only one block from the Depot. Sadly, 261, after emptying its passengers, moved miles away to the freight yard, not to be seen for several hours. The locals were operating a commuter train to take people down to the yard for peeks. The medicine show (above) entertained everyone as the waited in line.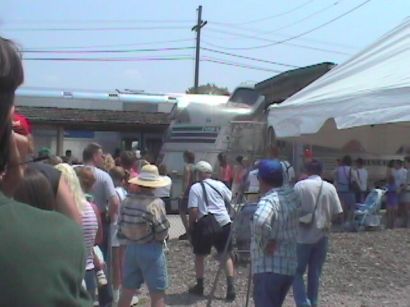 A week before I'd been at the Illinois Railway Museum and noticed the Nebraska Zepher out running on the tracks. Well here it was, a week later, sitting by the station in Galesburg. First thing I did was go Inside. They had the air conditioners running so it was quite pleasant within.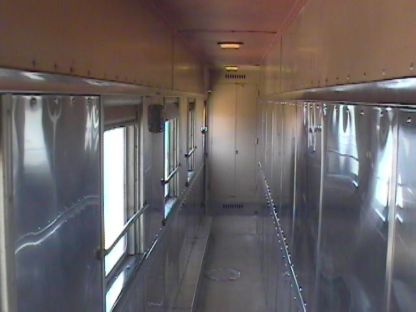 The coolest (temperature wise) car was the Diner.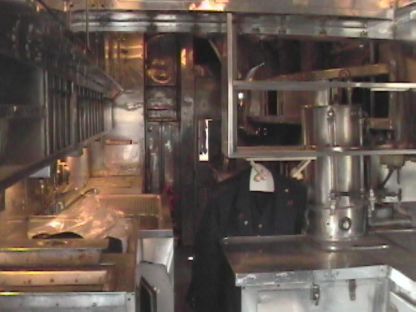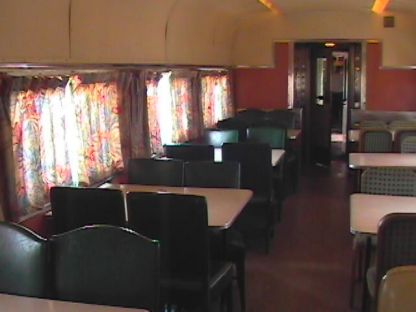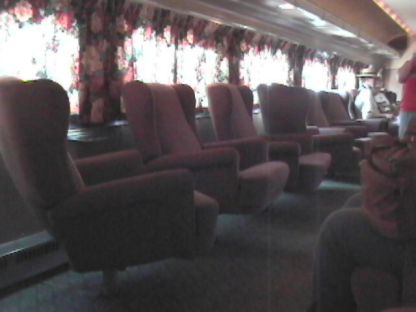 I noticed many of the 261 excursionists inside chatting and enjoying the air conditioning.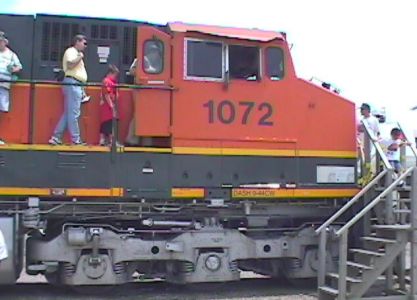 Also on display was a Dash 9.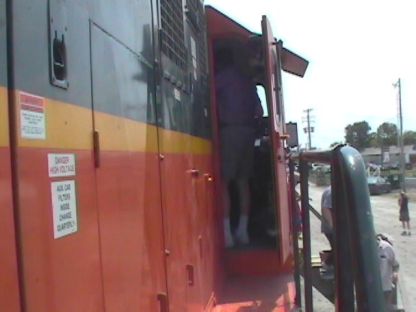 The waiting line was short.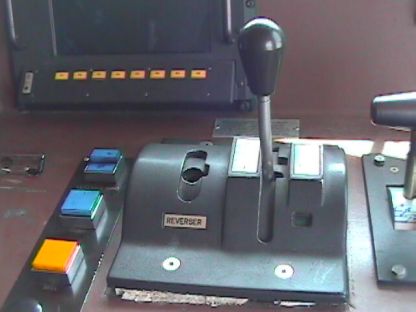 So In I went.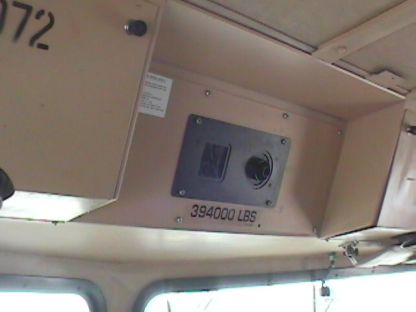 And Stayed a while (there was a good breeze
through the cab and I could listen to the yard radio.)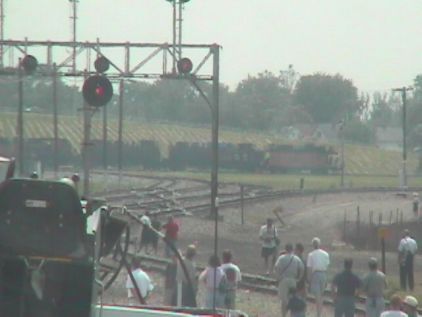 The view from the cab, looking toward the yard.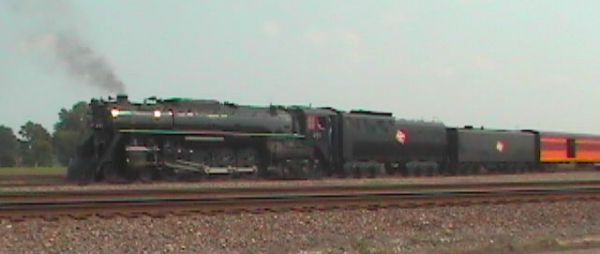 This was what everybody in the picture above were waiting for...
261 pulled tantalizingly into view, but had to wait for 2 Amtrak trains
to go through first. I walked around the carnival to get a closer view.
A view which was constanly being obstructed by FRNs (imagine the nerve!)





I mostly videotaped so I only got a few stills.
This photo is pieced together from two zoom shots.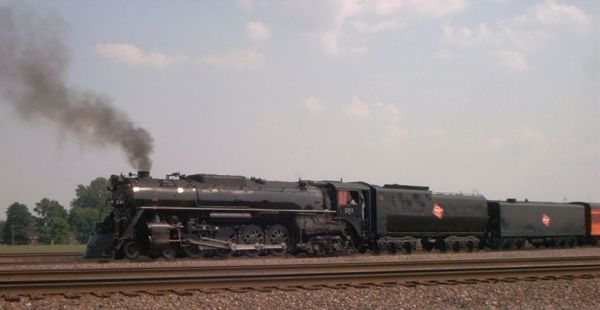 At long last 261 was allowed to pull up to the station.
I never made it to the model shows at Carl Sandburg College
for fear of missing this fleeting moment.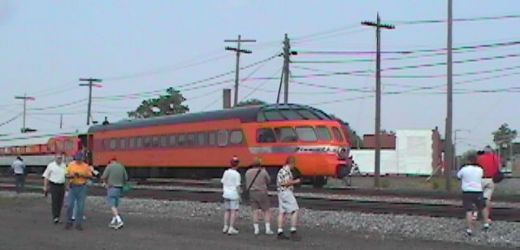 The skytop at the end of the train. I quickly headed out of town after this,
hoping to catch 261 in motion. I was just outside of town and pulled over by
a grade crossing when she came zooming by. All I got was a great video moment.
I gave chase, along with about 50 carloads of other railfans, but the speed limit
and inconsiderate drivers who weren't chasing a train intervened. I could make about
62 on Rte 34 and the excursion just pulled away. I drove on to Mendota, hoping for
another glimpse, and on the way saw some of the Foamers pulled over by the cops.
All my planned scenic photo shots passed by unused.





As I approached Mendota, I could see a smoke plume south of town. I was in time!
I hurried in to the depot and had time to set up my tripod and wait with the rest of
the railfans for my last pictures of the day. When the train finally rolled by, I
was hard put to snap a still with my digital camera, while videotaping the train.
My pic came out crooked, but I cropped it and it looks straight. It was a trip well
worth the effort, on a hot June day.