This is just a beginning... things will constantly change.

But first, I must complain about the pronunciation of words in media today:

OFTEN... is pronounced "offen" there is absolutely no Tee sound in that word!

TEMPERATURE... is pronounced "temper a chure"... not as most blithering idiots on the weather channel and many local news stations say: "tempachure."

And, as Rags Raglan shown us all, once actually does end in a T.

OnceTTT!


I'm also really annoyed that all (well, most of) the TV shows I watch are for old people. What does this mean?


---
OK, here's what I watch on TV:

#1 Turner Classic Movies: (comes with most cable and is FREE!!!!) The Thin Man, Film Noir, All Kate Hepburn, although obscure films from the 30's are great, and I love Laurel & Hardy, Buster Keaton, C. Chaplin, and Silent Sundays.
#2 Hot in Cleveland: my favorite comediennes all together in one show
#3 South Park: these guys are so far to the right that it annoys me, but their humor is impeccable.
#4 The Simpsons: any episode, any year... it is the best.
#5 Family Guy: totally excellent, especially the Stewie & Brian road shows.
#6 NCIS: I was an ardent JAG fan and when it morphed into this I was amazed.
#7 Futurama: Thank God for the new episodes. Billy West and Katy Sagal are so great.
#8 The Red Green Show: The best thing on PBS... and I anxiously await the return of Ben Franklin!
#9 Bones: Three of the most beautiful women on earth, (the male cast is great too), good writing, what more could I ask for?
#10 Frazier: They made so many episodes I can watch and enjoy this show forever.


---
TW Fave Quotes
From Flower Drum Song (the movie) "You can fool some of the people half of the time!"


---
OK, Tom Wham's Favorite Actors & Actresses...


#1 Jean Arthur

#2 a 5 way tie: Spencer Tracy & Katheryn Hepburn, Peter Sellers, Jack Lemmon, and Ginger Rogers.

#3 another 5 way tie: Eugene Pallette, Charles Coburn, James Stewart, William Powell, & Myrna Loy.

#4 yet another tie, but 6 ways: Terry Thomas, Humphrey Bogart, Lauren Bacall, Eddie Anderson, Gary Cooper, & Maureen Ohara

#5 guess what... another 6 way tie: Stella Stevens, Gregory Peck, Gene Wilder, & John & Hayley Mills, & Jack Benny.

#6 a 6 way tie: Charles Laughton, Elsa Lanchester, Steve Martin, Sandra Bullock, Sydney Greenstreet, & Jimmie Durante.

#7 a 7 way tie: Dean Martin, Shirley McClain, Fred Astaire, Eric Blor, Edward Everett Horton, Red Skelton, & Buster Keaton.

#8 is an 8 way tie: Groucho, Harpo, & Chico Marx, Billy Gilbert, Stan Laurel & Oliver Hardy, Charlie Chaplin, & Shirley Temple.

Have you ever tried to do this?? Tis' difficult, I like them all...

#9 which is a 9 way tie: Judy Holliday, Frank Sinatra, Gene Kelly, Leslie Caron, Gregory Peck, Susan Heyward, Greer Garson, Walter Pidgeon, & John Wayne.

#10 Amazingly a 10 way tie, involving: Woody Allen, Robert Preston, Kirk Douglas, James Whitmore, Ann Harding, Julie Andrews, Audrey Hepburn, Peter Ustinov, Rosalind Russell, & Jimmy Cagney.




OK, Tom Wham's Favorite Classical Music... it has very little to do with others in the world in which I live.

#1 George Gershwin: Everything he wrote... Rhapsody in Blue, Porgy & Bess, usw.
#2 Sergei Prokofiev: Everything he wrote... Romeo & Juliet, Lt. Kije, the 5th Symphony, usw.
#3 Arthur Sullivan & William Gilbert (sirs): Every comedic opera they wrote.
#4 Aaron Copeland: everything he wrote... Billy the Kid & more.
#5 Aram Khachaturian:everything he wrote... esp Gayne.
#6 Maurice Ravel: everything he wrote... esp Bolero.
#7 Claude Debussy: everything he wrote... esp the string quartets.
#8 And then there are all these people tied for 8th: Zoltan Kodaly, William Walton, Ralph Vaughn Williams, Francis Poulenc, Leonard Bernstein, Dmitry Shostakovich, Heitor Villa Lobos, Manuel DeFalla, Philip Glass, and Steve Reich... you'll note that my top ten fails on this item... I love them all!
#9 J.S Bach: everything he wrote.
#10 PDQ Bach (Peter Schickele) & Victor Borge: These Guys share the throne of musical comedy.



Tom Wham's Favorite Board Games...

#1 Le Havre, Ewe Rosenberg, so what if it takes three hours to play!

#2 Giganten der Lufte, Andreas Seyfarth (this makes up for the length of Le Havre).

#3 Russian Campaign, Johnathan Edwards

#4 Puerto Rico, by Andreas Seyfarth

#5 Wyatt Earp, Rich Borg & Mike Fitzgerald

#6 Eagle Games: Railroad Tycoon, The Boardgame... I was lucky enough to playtest this game, and I like to think that one or two of my suggestions made the final cut. Notwithstanding, it is an excellent game, the best thing that Eagle Games has ever done. Two to four players can finish (and enjoy) a game in less than three hours.




Tom Wham's Pet Peeves...

#1 The REAL GROUND ZERO: Hiroshima
#2 Another, very important, ground zero: Nagasaki
#3 Commercial Whaling! Whale hunting should only be allowed in longboats...Try rowing one of those to Antarctica from Japan or Norway.



---
Tom Wham's Favorite Movies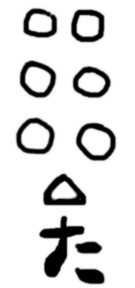 ---

More to come soon...

---

My favorite place: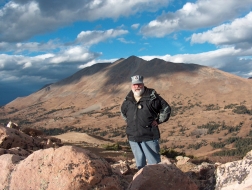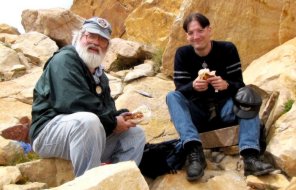 The summit above Boreas Pass is totally awesome