This was probably my most ambitious Colorado trip so far. I parted company with the Lake Geneva Public Library at the end of July and embarked on my new career as a full time game designer. My new boss decided I needed to go to Railfest on the Durango & Silverton... combined with a trip to Tacticon in Denver, where I could debut and playtest my new (old) supplement to Iron Dragon.

August 19
Began with a late departure from Lake Geneva. I took a wrong turn in Des Moines, and then found myself heading West on I80 in a thunderstorm. So, I sought refuge in a way overpriced Best 8 Inn (cost more than any Ramada or Holiday Inn I've ever stayed at... hint: don't go to Best 8 inns.) First day no pix.

August 20
Up in a better mood. It wasn't far down the road to Adair and the site of Jesse James' train robbery.




Click on the pictures for a larger version.
Once there, click on BACK to return to this page.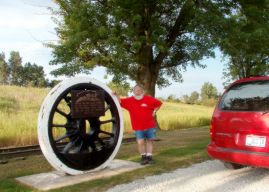 Now, if only GFred were here.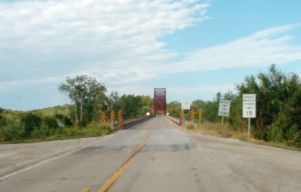 About to cross the Missouri River at Plattsmouth.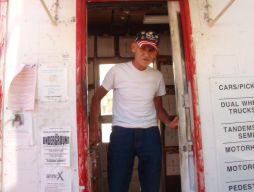 Louis Study, my favorite toll keeper for the colorful bridge owned by the Plattsmouth State Bank.




I cruised across Nebraska that day without taking pictures (I even stayed on I80 so I missed driving alongside the Union Pacific Main Line). I made my requisite stop at the Welcome to Colorado rest area in Julesburg (and picked up a free state map).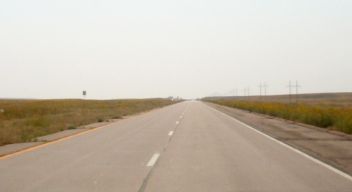 I76 between Julesburg and Ft. Morgan (note Colorado's mountaines).




After a rest stop at the Ft. Morgan City Park, I turned off I76 at Wiggins to begin my Denver Metropolitan bypass. It led me down 58 to Prospect Valley, 79 to Bennett, Over I70 to Kiowa, and finally 86 to Franktown, where I was graciously hosted by Cousin Nancy and her husband Ron.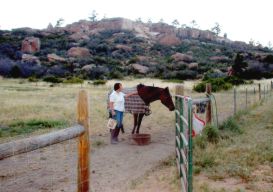 She was busy caring for her horses.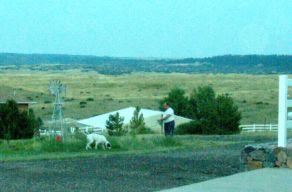 Ron out watering plants.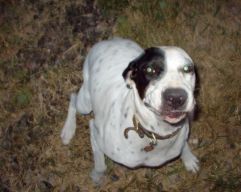 Stoney wasy busy having fun.




Nancy cooked great burgers out on the deck that night and the stars overhead were brilliant.