I was up early and hit the Summit County Public Library to check my email. Then we headed up over Loveland Pass where I snapped a few flower pix, then on to check the schedules for the Georgetown Loop Railroad. We were unable to get a mine tour so Gfred suggested we do Mount Evans... and away we went.



Click on the pictures for a larger version.
Once there, click on BACK to return to this page.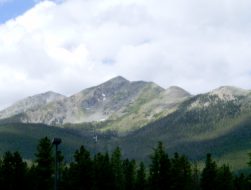 The view of Ten Mile Peak from behind the Library.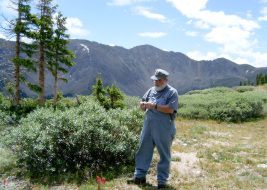 Indian Paintbrush near the top of Loveland Pass.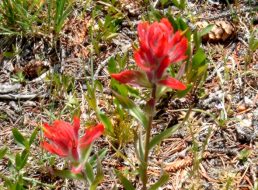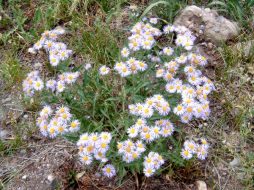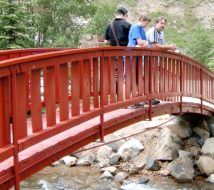 The Bridge over Clear Creek by the Georgetown Depot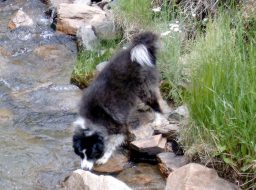 A fine furry fellow drinking from Clear Creek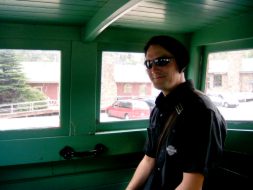 Chris & I board a well preserved Rio Grande Southern Caboose (0400) on display in Georgetown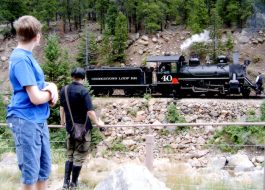 Brandon & Chris watching #40 chug by beneath the loop.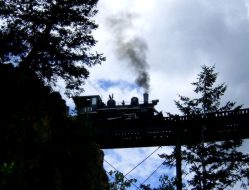 I wander under the trestle for a picture or two.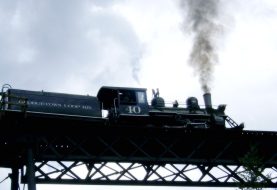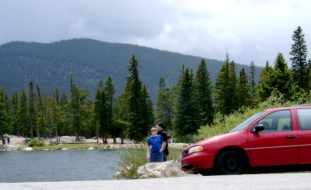 We trundle up a narrow highway from Idaho Springs to beautiful Echo Lake.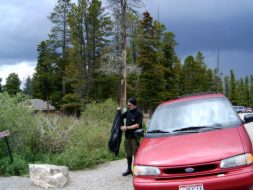 There were thunderstorms nearby and the rumbles echoed off the sides of mount Evans.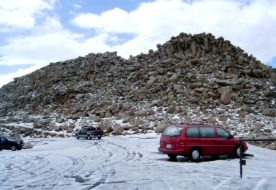 Up the road we went. Paid the entrance fee, and then drove thru a hail storm (you can
see how much hail we got) to reach the summit parking lot. We still had to walk a few
hundred feet to reach the summit.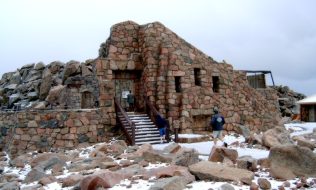 A restaurant and gift center that burned down a few years back...
At 14000 feet, life is difficult... for us and gift shops.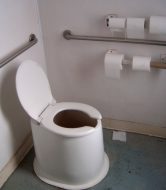 A nice cool breeze emanated from below when seated upon this device.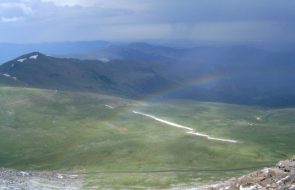 It was a bit too stormy to see out on to the plains, but we did get a nice rainbow.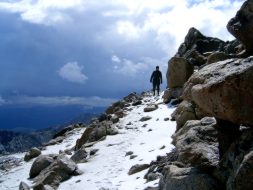 I don a poncho and start up the summit trail. On the way I met Chris coming down.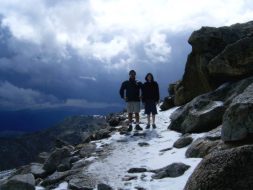 On the next switchback, I encountered Gfred & Brandon.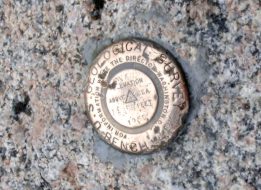 At last at the top. I was able to correctly set my altimiter.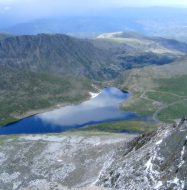 Looking down at Summit Lake.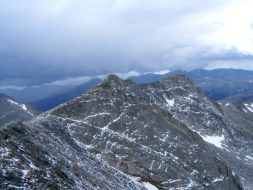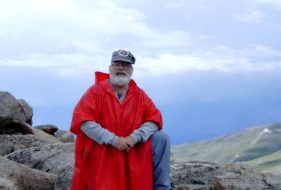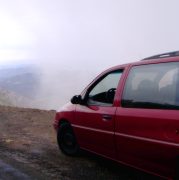 On the way down, we stopped to take pictures of a Marmot, but a cloud rolled over us.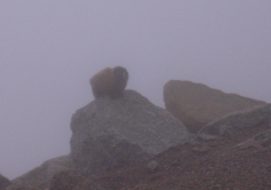 Fog Marmot (similar to Henry Crun's Fog Chicken).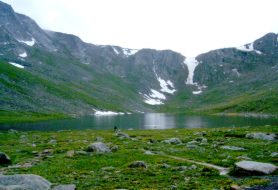 Summit Lake was spectacular, and i can hardly wait to go there on a sunny day.