This game is an offshoot of my love for Colorado, which really got a jumpstart when I visited the Rio Grande Southern Railway on a 1951 vacation with my family, and saw my first Galloping Goose.

Colorado Railroads is not quite an 18xx or a crayon game but falls somewhere in the middle. Players draw their own tracks on the map and can only run on their own rails, but there is lots of stock and plenty of other weird stuff to do. I started work on it back in 1990 when a group of rail gaming nuts would gather in Brian Blume's basement every Wednesday for a railroad game of some sort (many of Brian's own invention).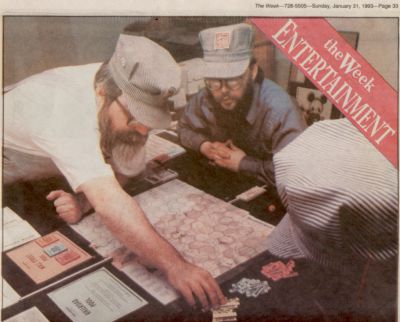 It made the newspaper in 1993



I finally finished a playable version of the game in 1992 with the help of Dave Conant (and several dedicated friends). So far I've managed to produce about 18 copies for sale. It seems to have a dedicated following of about 4. I still have hopes of interesting a publisher someday.