Saturday, August 10, 2002
Dave and I were pleased to discover that our hotel room included a good breakfast buffet. Well fed, I dragged us out of the way to Wal Mart to buy new shoes. The previous day's walking pointed out my error of bringing only one pair with to GENCON. Finally we headed in to Milwaukee, parked again at Grand Avenue, and got our (refillable for 25 cents) drinks at Rocky Rococco's. I dropped off a couple games for sale at the auction and asked if they needed an auctioneer, but the crew were happy.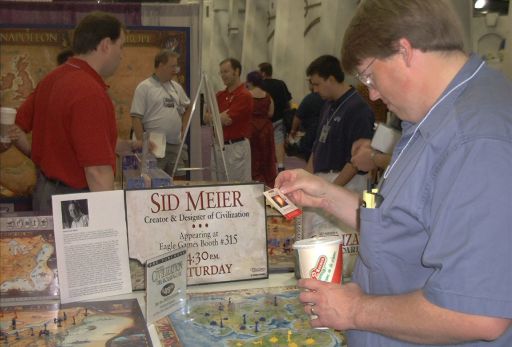 Upstairs to the dealer area. Dave put down the money for an advance copy of Civilization. I'm looking forward to it.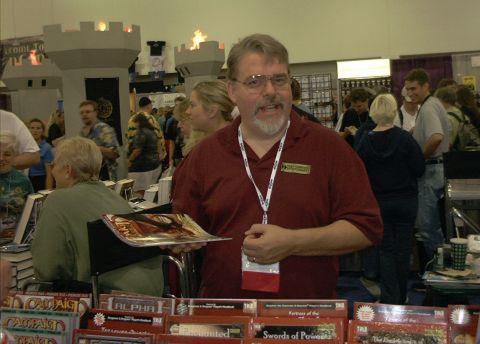 That's the famous Jim Ward hyping Games Unplugged. Just to his left is Margaret Weiss chatting with some fans.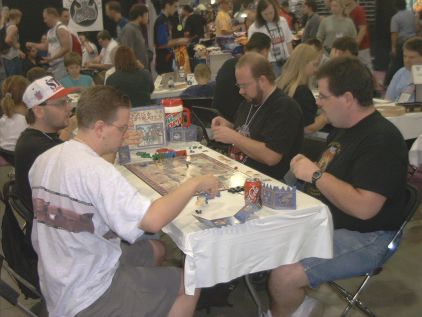 Bill Corey is giving a demo of Tigres & Euphrates at the Mayfair booth.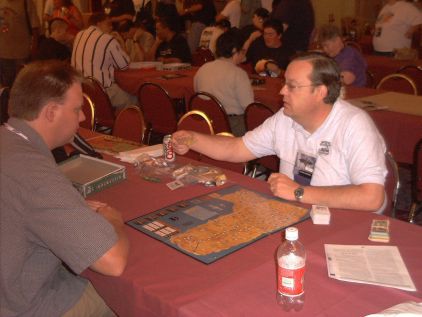 Back on the 5th floor of the Hilton I ran into Darwin Bromley and got myself into a game of Silverton. I was winning until just before we broke up to go to the train games time at the Auction. At that point, all Darwin's gold mines started paying off and he swept the opposition away.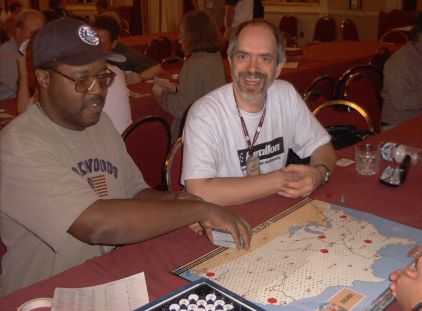 Was pleased to see old TSR buddy, Al Hammack playing Empire Builder nearby. Well, the train auction was more or less a bust. They only had about 15 train games to sell. I guess train gamers tend to hang on to their favorites. The best part of the auction was Frank's great train whistle.

I managed to get in a little auctioneering and then went a wandering again, but failed to take any more pictures (except the one below) for the rest of the evening. I finally found the skywalk over to the Hilton but the Polka Music button didn't work. I was disappointed.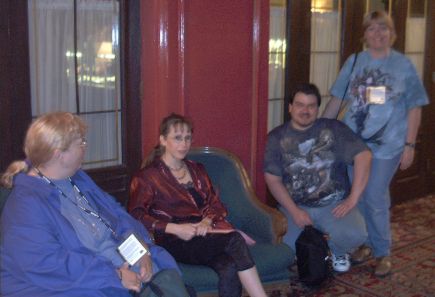 In the Lobby of the Hilton I ran into Jean, Janet, Dean, & Annette. The photographer couldn't hold the camera steady, so everybody is a little fuzzy. That's how Dean was feeling anyway. I later went back to the auction, which looked like it was going to last until 3 A.M. again. Dave and I finally pooped out after midnight and headed out.