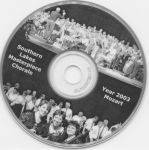 Tom Wham took digital pictures of the dress rehearsal and the performance (in spite of a battery failure). Anybody who wants a CD full of jpg images please send $2 to:

Tom Wham
P.O. Box 721
Lake Geneva
Wisconsin
53147

I'll burn you a copy and mail it to you. Sadly, I only have pictures, no sound.
I know it's a terrible rip off, but I'm doing this to make a fortune.