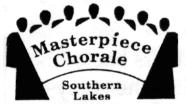 Southern Lakes Masterpiece Chorale: Year 2004
Beethoven - Missa Solemnis
Our performance was at the

Elkhorn Area High School
Werner Auditorium
at 7:30 P.M.
Friday, May 7, 2004.
---


If you haven't figured it out... I sing in the bass section, so my personal view is biased
... Tom

February 3
Beethoven Action Figure!

Click on image for larger picture... Back to return to this page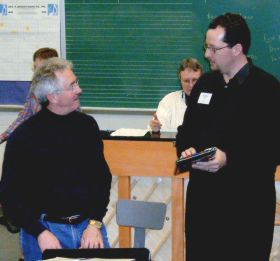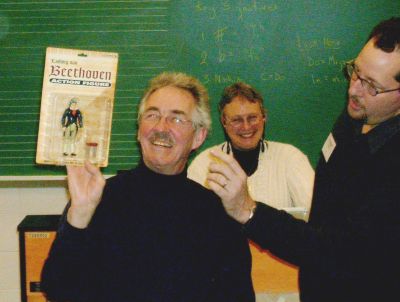 ---
February 10
He's back!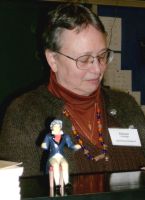 Watching over us all.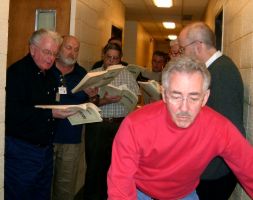 The boys in the hall.
(I got two shots of the Bases, but they were both bad).


---
February 17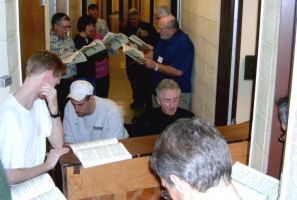 We split up into sections again.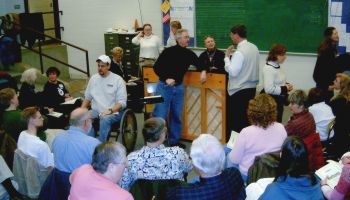 And then put it all together... almost successfully.



---
February 24
Hey, we mangled the Kyrie & the Gloria better than ever before!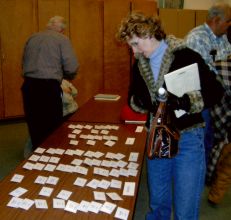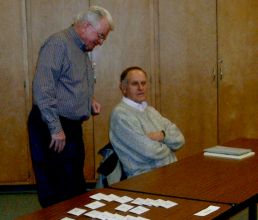 The Name Tags were a great idea!.



---
March 2
We only learned about three pages today... ouch!


Click on image for larger picture... Back to return to this page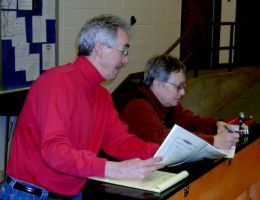 Killing notes for breaths.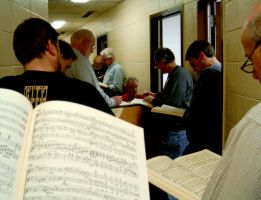 The boys in the hall... episode 4


---
March 9
The boss was nice to us today, we avoided the tough stuff.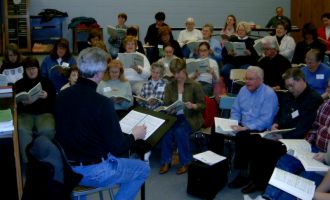 Must have been because it was somebody's birthday.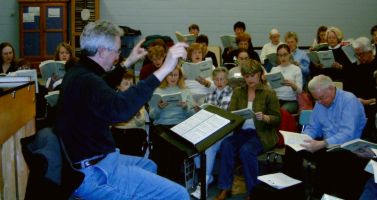 Only the girls are singing here.


---
March 16
We almost made it to page 80 (but choked at 72).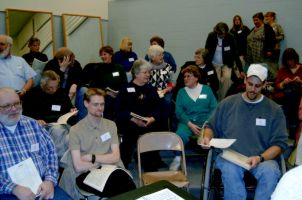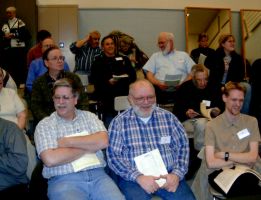 Break time


---
March 23
The real reason behind all Beethoven's wierd scoring was revealed,
but if I repeat it here, I may not live...

So Few Rehersals, so little time
I think Sev gives us about a 50/50 chance now!
And still six weeks to go.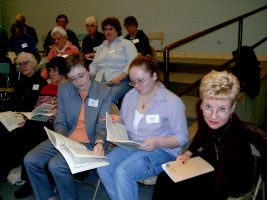 To his Right (the conservatives... or would that be the altos)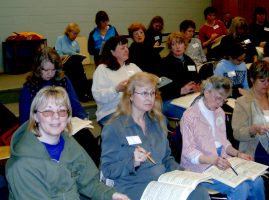 To his left (the radicals... oh, alright, the sopranos... and not a TV show)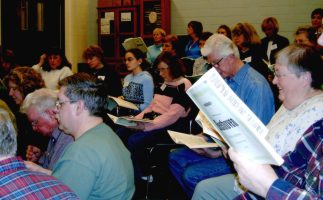 And then there's this picture I took in the middle (but you'll note that I lean to the left).


---
March 30
OK this time we really made it through everything.




Tenors face the Basses in an effort to hear each other.


---
April 6
The Basses(well, 3 of them) & Tenors came early for coaching.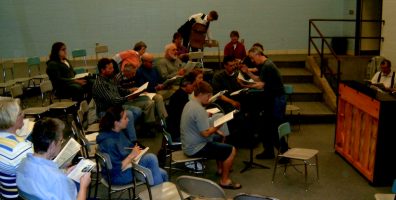 By the time this picture was taken, the rest had shown up!



---
April 13
Yours truly was in Chicago attending a PDQ Bach concert.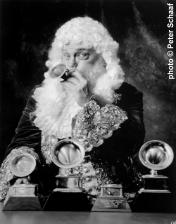 ---
April 20
We start early and work late
And we nearly have pages 72 - 76 down pat
Click on image for larger picture... Back to return to this page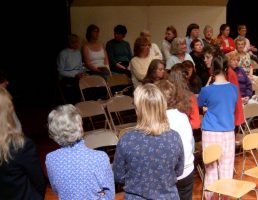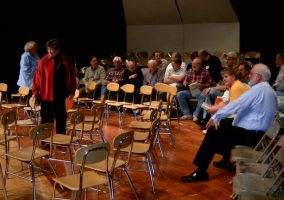 We are given seating arrangements on stage... rehearse with orchestra this Sunday!



---
April 25
Our first rehearsal with orchestra
We got about half way through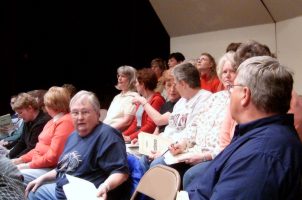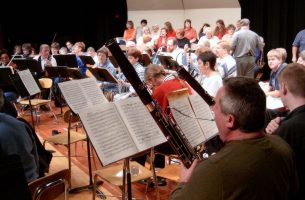 Everything was a bit close!


---
April 27
We go over the weak spots from Sunday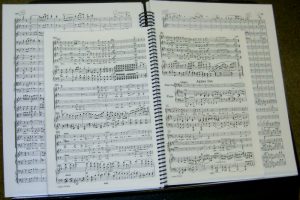 What the boss sees... I have enough trouble with one book.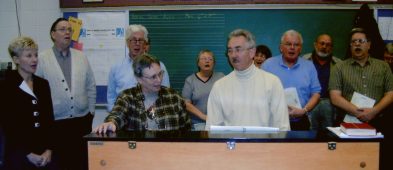 ---
May 2
We took up (sort of) where we left off last Sunday
There's still a lot of work to be done...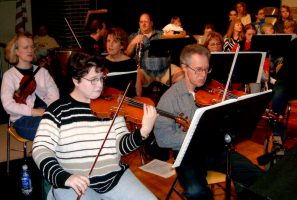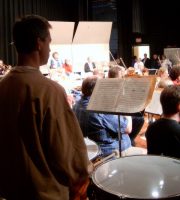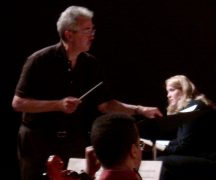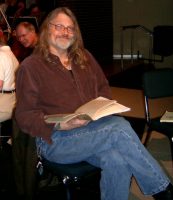 ---
May 4
Last chance to clean up the rough spots
We spent a lot of time on Et Ressurexit... pp 77 to 78
a- men, a- men,- a- men, ... et vi- tam- et vi- tam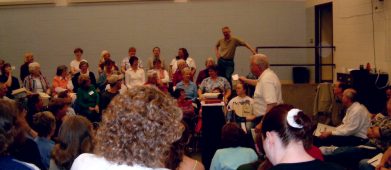 Of course these photos occurred during a break.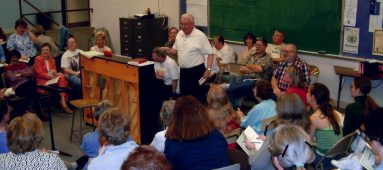 ---
May 6
Dress (well, at least last) rehearsal
First the rough spots
then all the way through... we might actually do it!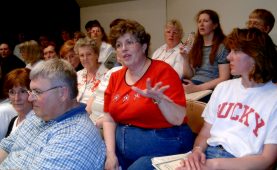 Our evil seating director...
OK, so she's not evil, she just makes us basses way too close to each other
just so the trombones can see. (God bless the trombones... they usually play the bass part)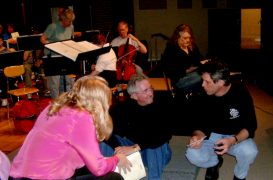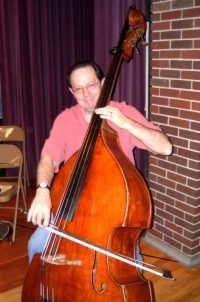 Another best friend of the basses... (but he's too far away)



---
May 7
The Performance....
My guess is around 5000 people hours for an event that lasted 1.5 hours
It sure did feel good!
And we'll all (I hope) have fond memories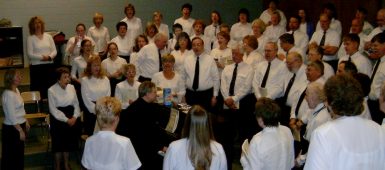 Elanor warms us up in her own way.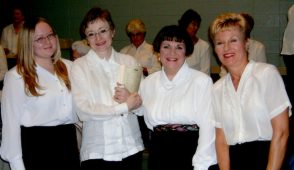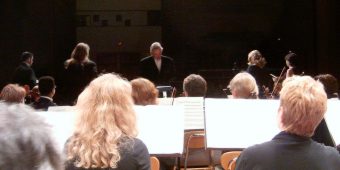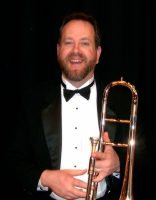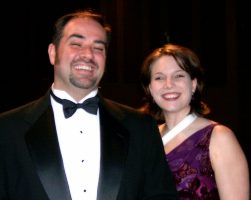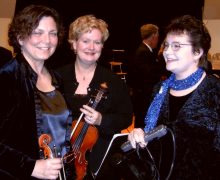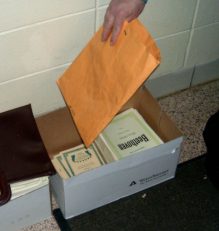 I felt really bad throwing my score back into the box... never to see it again.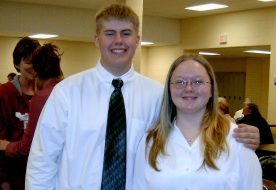 <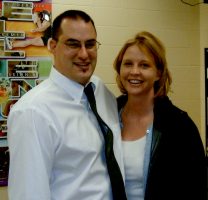 <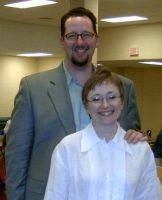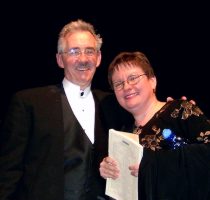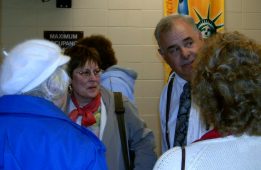 <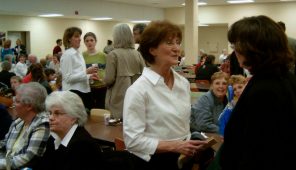 <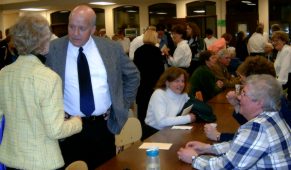 All my pix were relatively random... If I did not get you, I apologize. What you see is, after all,
my personal experience, but I am honored to have been among this excellent gathering of friends. Dona nobis Pachem... Pachem!



---


Return to Southern Lakes Masterpiece Chorale Home Page

This page updated January 19, 2005