Tom Wham's September 2002 Colorado Trip part 3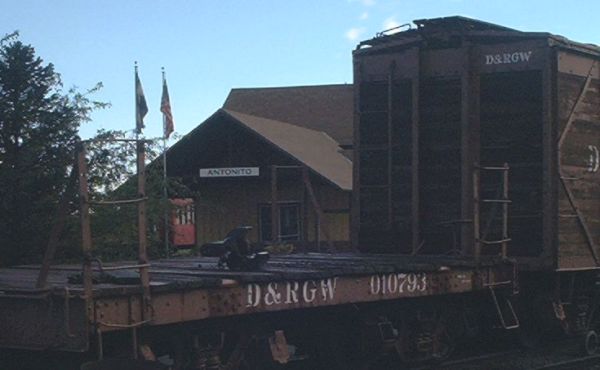 Antontio, Colorado


We arrived at sunset and checked in to the Narrow Guage Motel, which could not be in a better location. There's an excellent restaurant next door and just walk out your room door and you're in the railroad yard. If you sleep late, the train whistles should get you up in time (if you hurry) to catch the 10 A.M. trip to Chama.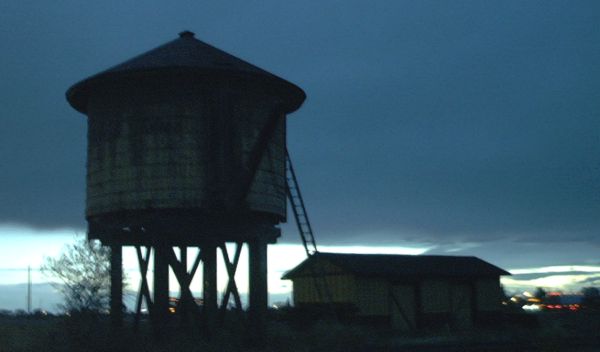 I was a bit disturbed when I arose at sunrise the next morning to discover cold wind, rain, and dark clouds. Later, at the top of Cumbres Pass, this would be a beautiful snow storm. The precipitation made the folks here as happy as could be... and the speeder which usually followed the train to put out fires, went ahead of us to look for rocks instead.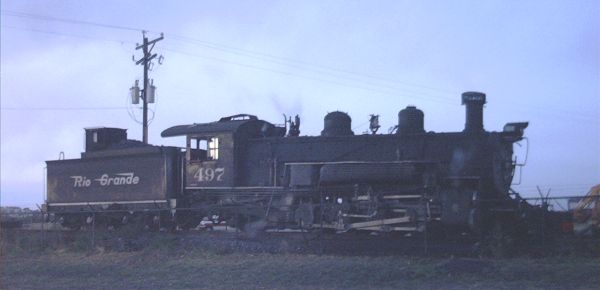 Our engine for the trip, 497 (a K37), was built in 1904 as a standard guage 2-8-2.
It was converted by the Denver & Rio Grande in the 1920's to narrow guage.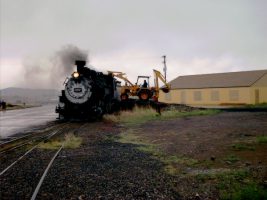 (click on picture for larger image... back to return to this page)
After leaving it's engine house, it was served coal for breakfast.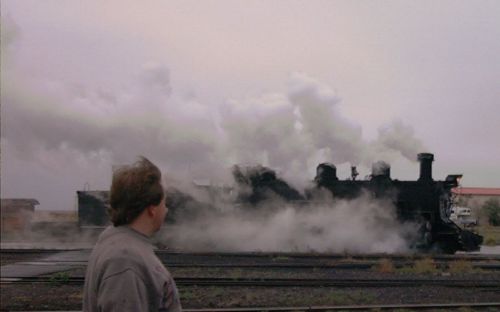 Then hissed it's way to the water tower...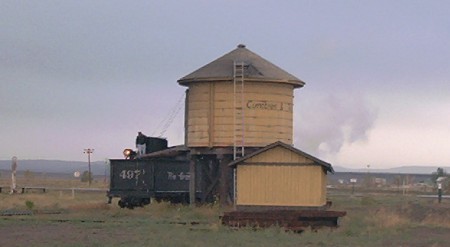 For a multi-thousand gallon drink.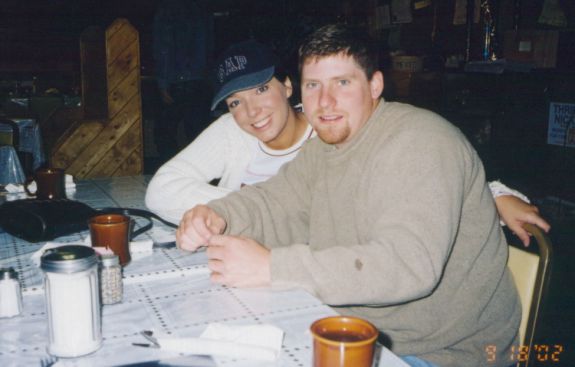 After taking the above photos, I hurried back to the Motel to precipitate some movement in the slower portions of the expedition. We were supposed to board by 9:30, and by 9 A.M. we were in the nice little cafe next door.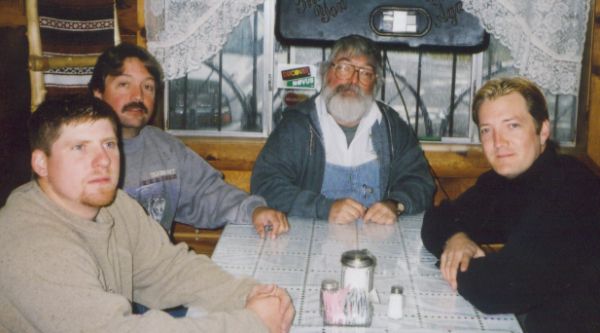 They had great inexpensive breakfast specials and the services was fast and courteous.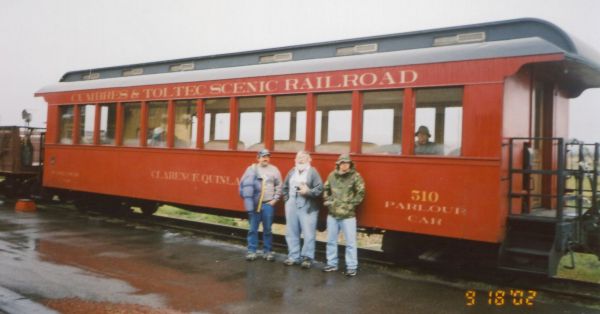 That morning, at the last minute, I spent an extra $200 for seats in the Parlor Car
What a great decision that turned out to be.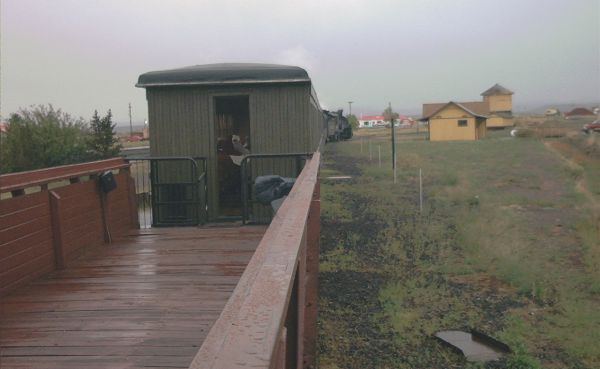 As we left Antonito, the open air gondola was rather empty.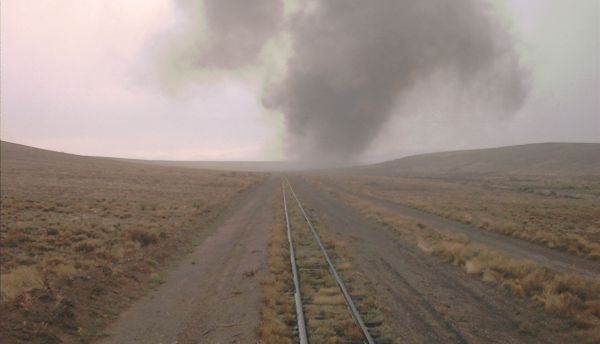 The trip began amid sagebrush, and we soon gathered on the rear platform
which sheltered us from the cold and rain.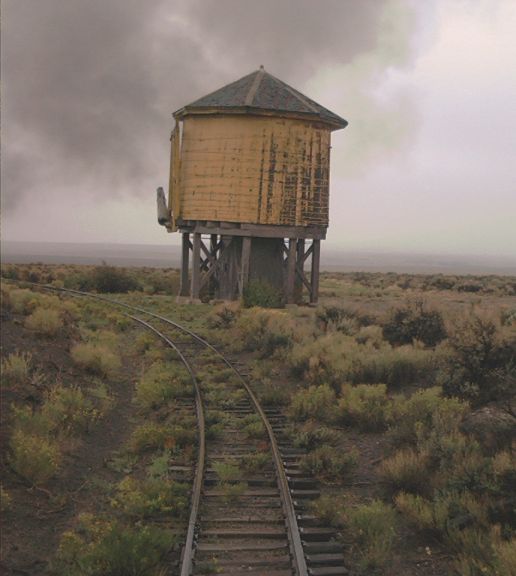 They took our food orders as we passed this water tank.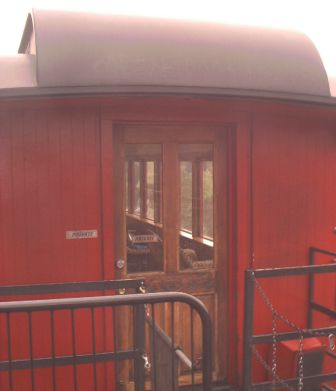 "Private Car"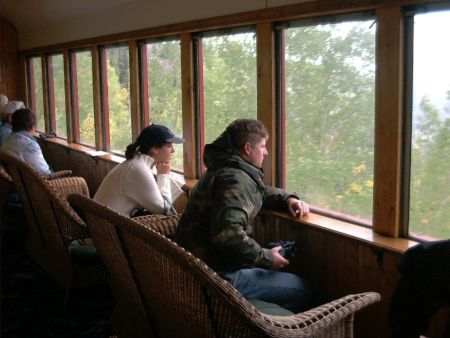 Body heat warmed the insides of the cars.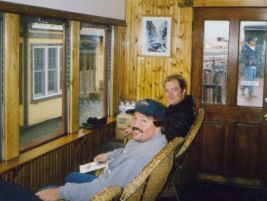 (click on picture for larger view... hit back to return to this page)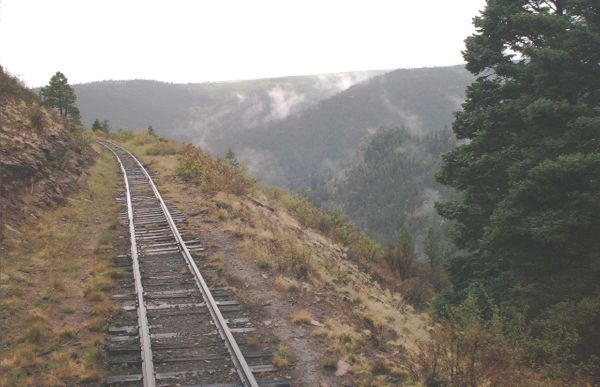 Winding up towards Toltec Gorge (photo of which I missed.)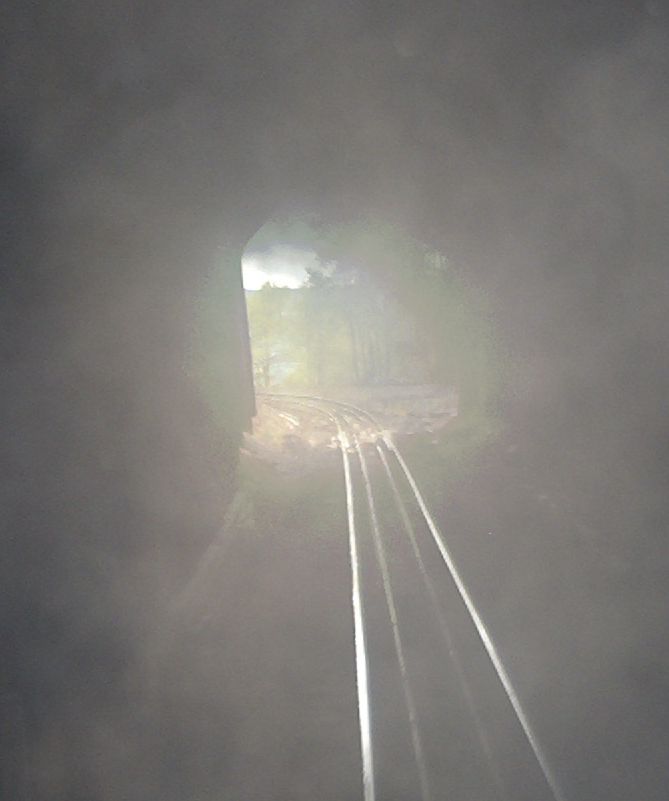 Looking back through Mud Tunnel as we passed.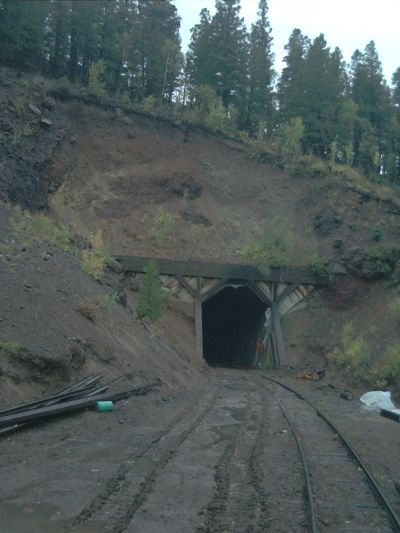 It was aptly named.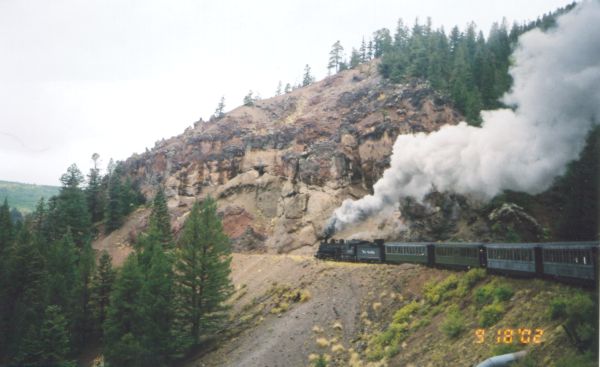 I'm not sure where this fits in as Dawn took this with her 35mm camera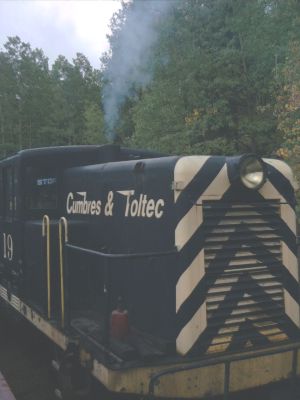 We meet the smokey Pinapple at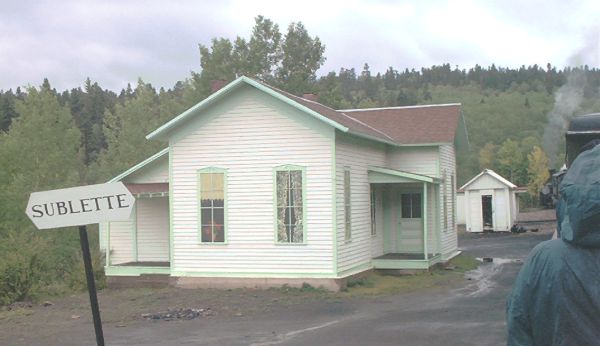 Sublette (where the curtains are painted on the windows.)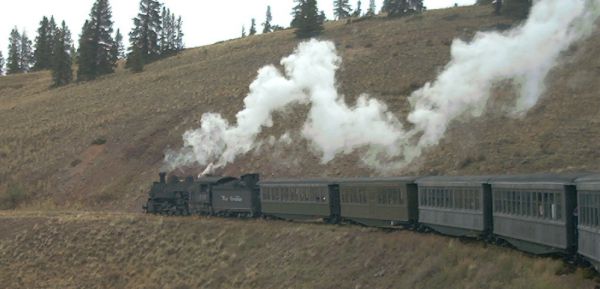 Climbing up to the top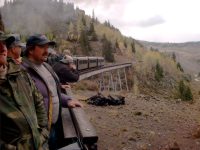 Click on image for large view... back to return.


For some reason, I took no pictures when we stopped to eat at Ossier... or from there to Lobato. Here we're crossing the high bridge over Wolf creek near Lobato. Up at the top it snowed about half an inch in the open car.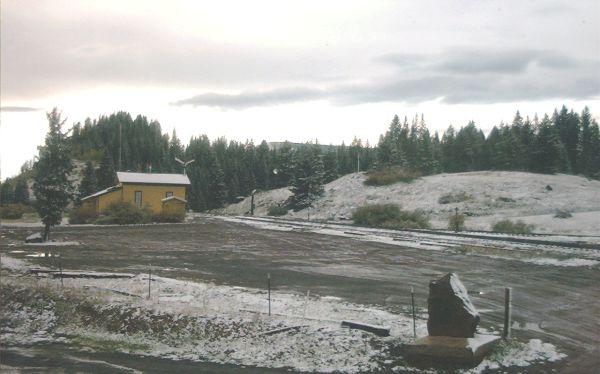 Upon arrival at Chama, we had no time to look and enjoy. We piled aboard the bus for Antonito. This shot of Lobato was taken out the bus window as we returned to Cumbres Pass.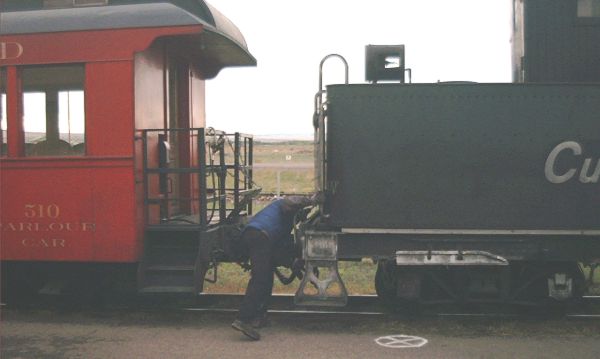 Back in Antonito, #487, wheich we passed earlier at Ossier, is uncoupled.





Then it circled around the parking lot heading for the Engine House




Go on to Chapter 4 of this Trip

Go back to Chapter 2 of this Trip

Go back to Chapter 1 of this Trip

Go back to Colorado Trip Index




---
Go back to Tom Wham's home page
This page updated June 8, 2004