Friday, I was up early on my regular pilgrimmage to Wal Mart for supplies and then the Summit County Library to check my email. Unfortuanately, there was this digital camera (that I had almost purchased before the trip) on sale, so I bought one and this is the first picture I took. Of me and Ten Mile Peak from the parking lot at the Library.

We set out later that day to go for a hike up to Blue Lake and an old mine just North of Hoosier Pass. However, while we were stopped in Silverthorne for gas and taquitos at the 7-11, we suffered a community change of heart. We reset our sites on Rocky Mountain National Park, and a trip back along the Peak to Peak Highway
Sadly, we started too late in the day. It was nearing sunset by the time we hit Estes Park. Dawn insisted we visit the Stanley. At first I objected but we drove up to their lot and went in for a visit. I was duly impressed and will be staying there some time in the future.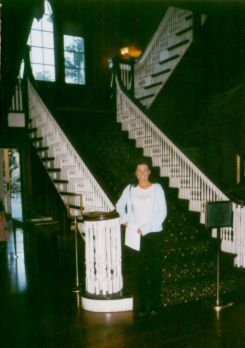 While I was exploring the museum, Dawn posed by the staircase.




The sun went down as we headed south on the Peak to Peak highway, so we missed many spectacular views. GFred was shocked at what has become of Blackhawk. It was a nightmare of casinos. The road down Clear Creek canyon was nothing but a steady stream of gamblers, heading West to lose their money. We hung a right on Colorado 6, then up I70 thru the Ike tunnel and back to Frisco.